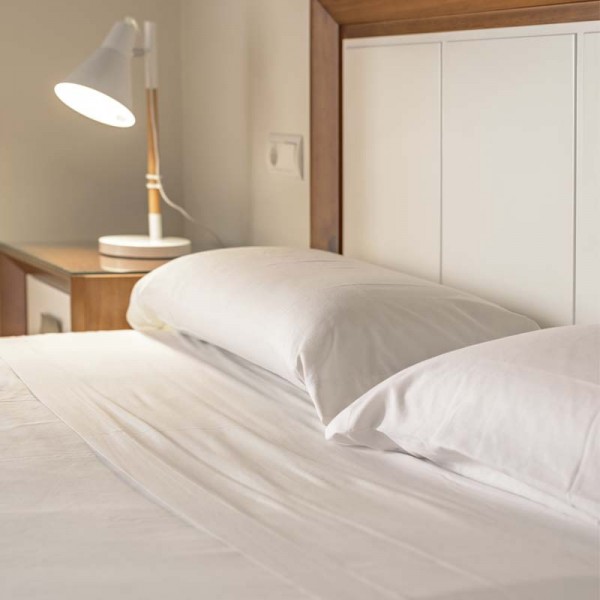 Top Sheet 30'. 50/50 140 gr/m2. White, cotton
Composition: cotton (50%) and polyester (50%). 140 gr / m2
Plain white color
Easy ironing
It allows intensive washes and dryer. Long durability
Bed size available: 90,105,135,150 and 160 cm
No minimum order
This product is no longer in stock
Warning: Last items in Stock!
Available from
Fast delivery
30 days return
Secure Payment
Quality guaranteed
Manufacturer since 1981
Do you need help?
Tf: +34 685347513
+34 685347513
M to F: 09:00-19:00
Know more about Top Sheet 30'. 50/50 140 gr/m2. White, cotton
White sheet top for beds from 90 to 160 cm.
Quality bed linen, easy ironing and wash-resistant, suitable for professionals.
Made in POLYCOTTON 50/50 in 30x27 fabric. Also available in 100% cotton quality
Please contact us for international shippings.
TextilPRO
Specialists in professional textile: hotels, apartments, touristresidences, hospitals, geriatrics, etc.

Best option for the tourist aparments, TextilPro is your reliable supplier for price and quality: Airbnb, HomeAway, Wimdu, Rentalia, FlipKey, TripAdvisor, etc.

Possibly the best value for money internet.

Do not hesitate to contact us for a professional and personalized attention, Tf: +34 657 718 881.

Monday through Friday, from 9:00 a.m. to 2:00 p.m. and 4:00 p.m. to 7:00 p.m.
Rafael Carreño S.L. (Textil Profesional) Textile manufacturers for professionals since 1981.